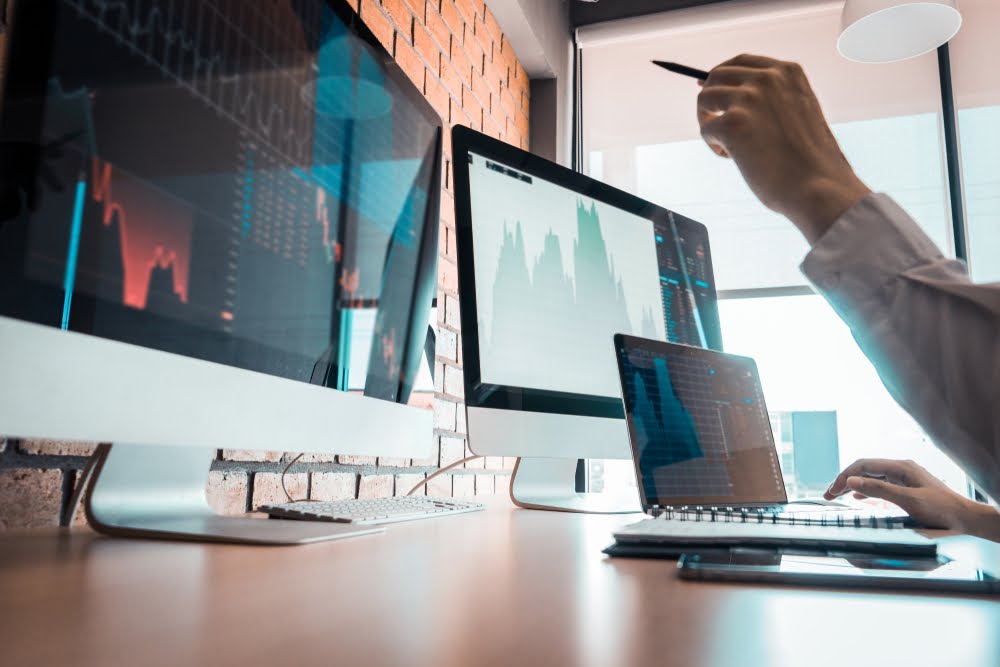 Widely used by over 30 million investors and traders from all corners of the world, TradingView is one of the trading tools you can't ignore. At the same time, Global Prime is one of the leading ECN brokers in the financial market.
In this post, you will learn how to use these two platforms side-by-side to maximize productivity and enhance your trading and investments. This post is specially made for Nigerians and Ghanaians, so let's get started.
Why Global Prime For Nigerian and Ghanaian Traders?
Global Prime is an online broker for financial assets. It also helps Nigerian traders and Ghana traders to access the forex, stocks, cryptocurrency, commodities, indices and bonds market.
Global Prime was established back in 2010 and is headquartered in Australia. From its establishment till date, it has been a broker for trading transactions and investments on behalf of individuals like you and me.
What Is TradingView, and What Does it Do?
TradingView is a trading tool that allows users to customize technical indicators, create charts, analyze financial assets and perform many other functions.
It showcases the latest stock, futures, index, foreign exchange (Forex) and bitcoin data in simpler formats. These formats can be displayed on any device.
Tradingview is also a platform where traders, investors, educators, and market professionals can connect to share ideas and talk about the financial markets and tradable assets.
Global Prime Connecting Nigerian and Ghanaian Traders To Tradingview?
Global Prime is the only brokerage firm that allows uninterrupted trading access to TradingView in Nigeria and Ghana.
And guess what? You can always open an account for free. There's also a demo account that allows you to practice with any amount you like, without actually funding your account.
Is it Safe to Trade on Global Prime Through TradingView in Nigeria and Ghana?
Yes, it is safe to trade on Global Prime through TradingView in Nigeria and Ghana.
This will not only enhance your trading but also help you connect with other like-minded traders and investors. Unlike other trading tools, TradingView will not compromise your trading activity or harvests your data.
How to Trade on TradingView in Nigeria 🇳🇬 and Ghana 🇬🇭?
If you want to know how to trade on Tradingview from Nigeria and Ghana, then you're in the right place. Note that this integration is made possible for Nigerian and Ghanaian traders by Global Prime's TraderEvolution platform.
Navigate to the "Accounts Tab," create a TraderEvolution account and then select Global Prime as the broker. You will be able to use the TraderEvolution user login details to connect your accounts from TradingView.
To create a TradingView account or log in to an existing one visit here👉 Create or Login
2. Enter the Chart page and load your favourite trading asset to view its current performance. For example, let's try indices.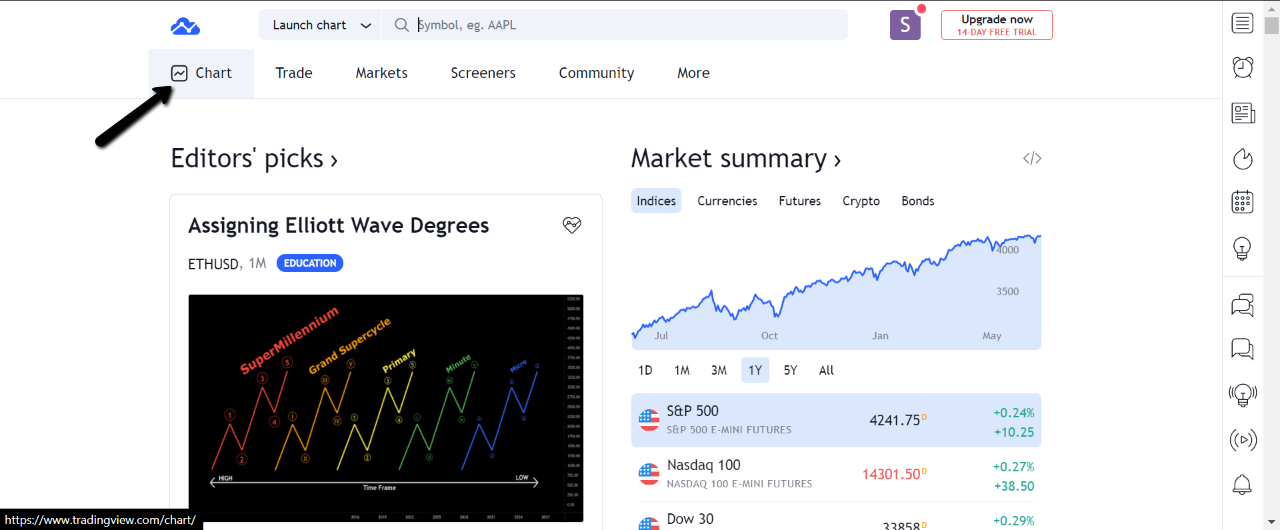 3. Alternatively, you can navigate to the "Trading Panel" and click on the "…" icon. That will display all the available brokers in the menu bar.
4. Locate Global Prime among the options, click on "Connect" and log in using your TraderEvolution login details. Welcome to TradingView.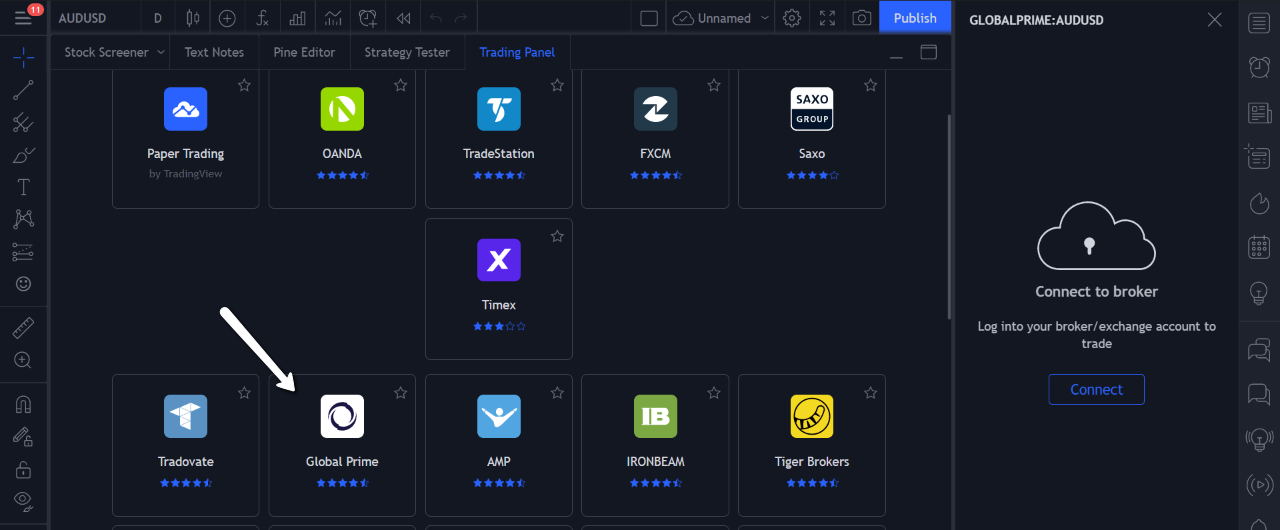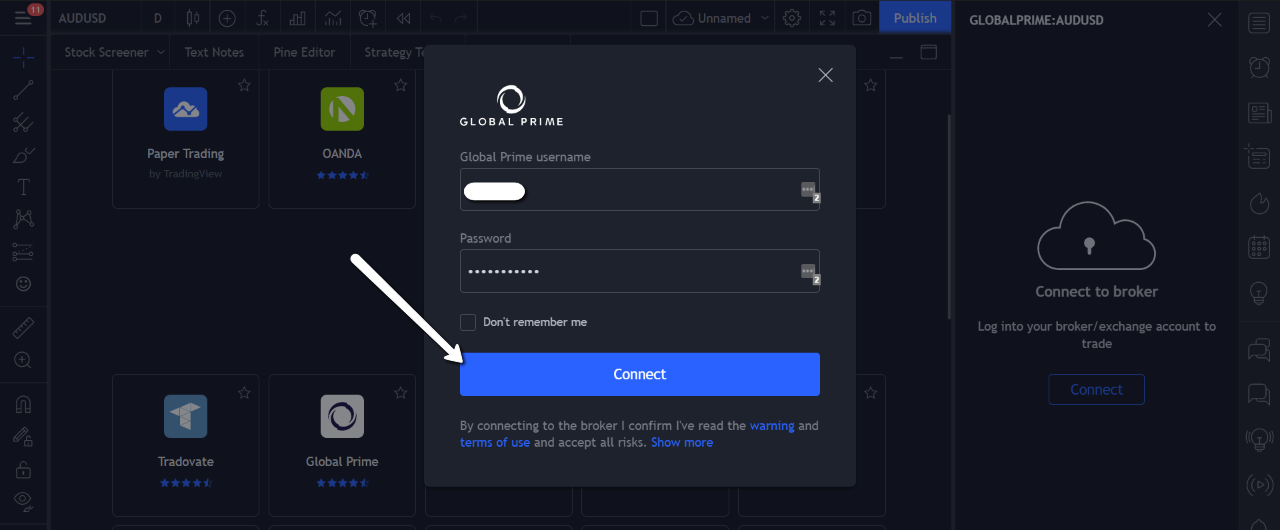 Financial Assets Available on Global Prime For Nigerians and Ghanaians
1. Forex
Global Prime offers almost 50 currency pairs for Nigerians and Ghanaians to trade on Foreign Exchange. That's still okay, compared to many other trading brokers.
As a user, you can verify performance with trade receipts. You can also see who filled your trade, execution speed, slippage and many other details.
2. Cryptocurrencies
To be honest, Global Prime may not be your best choice if crypto is what you want to trade. It only supports 5 cryptocurrencies as of the moment of writing this review.
Users can buy and sell Bitcoin, Bitcoin Cash, Ethereum, Litecoin, and Ripple on the Global Prime platform.
3. Commodities
You can trade more than 20 different commodities on Global Prime. Australians can trade high-value metals like gold and silver, and energy commodities like natural gas and oil.
You can also trade cotton, wheat and many others. However, you should know that commodities have high risks that are always usually equivalent to their rewards.
4. Indices
The Indices offered by Global Prime have tight spreads and excellent execution. Some of them are combined with the shares of large, popular and high-value companies.
5. Share CFDs
Global Prime offers more than 100 CFDs on the New York Stock Exchange (NYSE) and NASDAQ. Users can trade them by accessing the TraderEvolution platform.
6. Bonds
You can always trade government bonds from the US, UK, Europe, and Japan on the Global Prime platform. There are 7 different bonds that you can invest in.
Other Trading Tools Available on Global Prime – For Nigerians and Ghanaians
TradingView is not the only trading tool that is available on Global Prime. There are also many others, a few of which might be useful to traders and investors in Ghana and Nigeria.
1. VPS
A Virtual Private Server (VPS) uses virtualization technology to provide you with dedicated resources, instead of allowing you to share with other users.
Resources that can serve several users, for example, let's say 50 users will be allocated to you alone. Not only will you have a fast refresh rate, but also an uninterrupted server connection.
VPS is usually used by individual users, teams and small businesses that need consistent performance. If you're a trader or investor who needs reliable uptime and fast connectivity, then VPS will be a very useful tool for you.
2. Myfxbook Autotrade
Myfxbook Autotrade is another valuable trading tool in Nigeria and Ghana. It lets traders copy the trades of any system they select directly into their Global Prime MT4 account.
3. Zulutrade
Zulutrade is a P2P social trading tool that allows Nigerian and Ghanaian traders to access and select from thousands of traders from around 200 countries of the world.
4. FIX API
The Global Prime FIX API solution is specially made for professional traders that want to deploy their proprietary algorithmic trading solution with the lowest possible latency.
Global Prime Customer Support
Phone Support
+61 (2) 8379 3622
+61 (2) 8379 3622
Email
Support: Support@globalprime.com
Account and payment enquiries: Accounts@globalprime.com
Physical Office Address (Australia)
Global Prime PTY Ltd (ABN 74 146 086 017), Suite 504, 35 Grafton Street, Bondi Junction, Australia.
---
Disclaimer: Stocks, Crypto, Forex, NFTs and other tradable assets have high levels of risk, as your losses can exceed your initial investment. You should only trade with money you can afford to lose.
The information on this webpage is for educational purposes only and should not be treated as investment advice.
---
Now it's time to ask you some questions.
I am going to ask you 3 questions with enough time to think about each one.
Share your answers in the comment section down below and I will see how many I can correct.
If I don't get to you, please help each other around and correct each other.
Aside from TradingView, mention 3 other trading tools available on Global Prime.
Mention 2 things we can do on TradingView.
Aside from Forex and crypto, what other financial asset(s) can be traded on Global Prime?
Proceed to the next class here>> How To Deposit on Global Prime Trading Account – A Step-by-step Guide