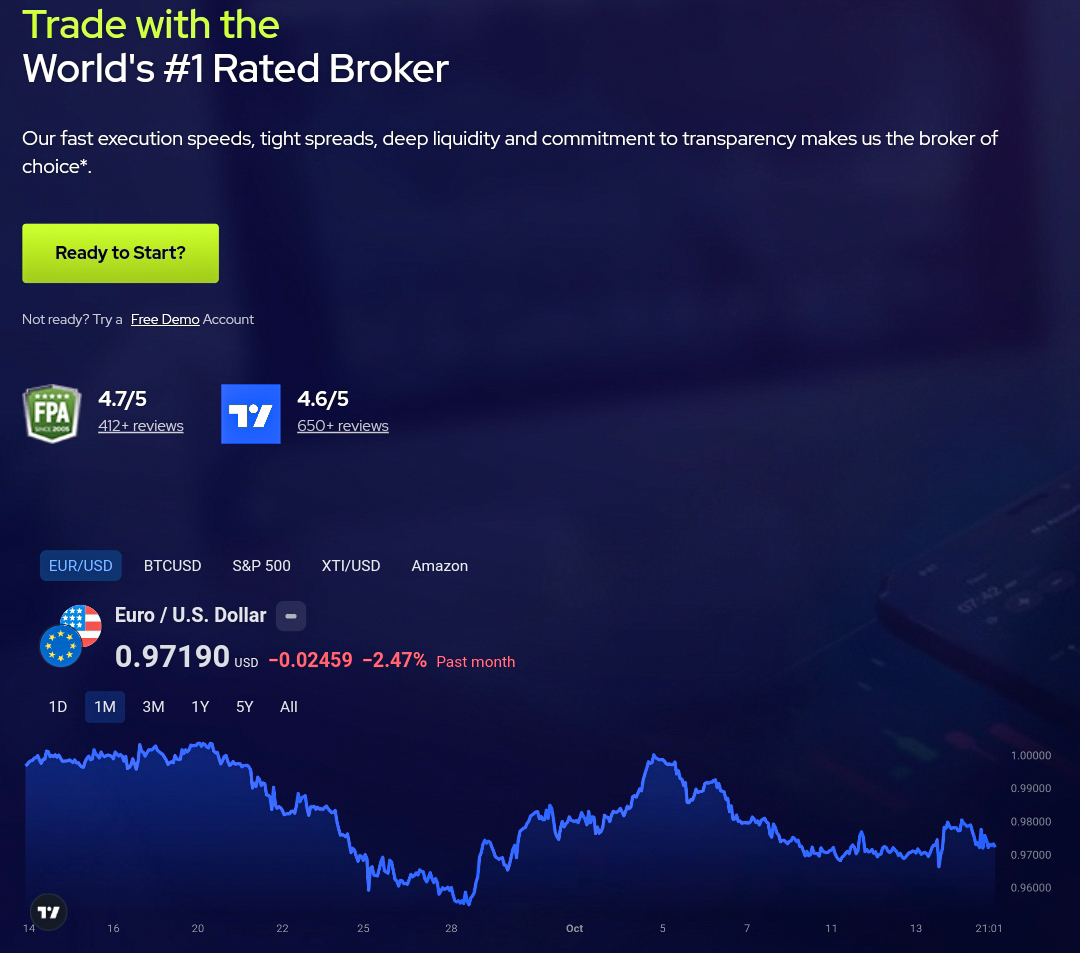 Global Prime Review for Australians…
Established in 2010, Global Prime is one of the leading ECN brokers for Australians in the financial market. Not just the stock exchange, but also Forex, Indices, commodities and the like.
Is Global Prime safe to use? Does it offer MT4 and TradingView? Is it good for Forex trading? What about reasonable trading fees? In this post, we have outlined all the important details you need to know about Global Prime.
Now let's get started.
Global Prime is an online broker for many things on the stock exchange, Forex exchange and financial markets in general. Mind you, account creation and trading are free.
You won't have to pay heavy brokerage fees like you'll have to on many other platforms. If you're a trader in search of an MT4 broker that charges the least possible money, then you should try Global Prime.
Is it Safe to Trade on Global Prime?
Yes. Global Prime is a safe platform, and all Australians can trade on it without worry.
This platform is highly regulated by the Australian Securities and Investments Commission (ASIC), the Vanuatu Financial Services Commission (VFSC), and the Financial Services Authority (FSA) Seychelles.
Global Prime will not use your money to invest in other businesses or anything of the sort.
All your deposits are stored in segregated client trust accounts in secured banking institutions.
This platform also ensures that all traders have negative balance protection. In the worst market behaviour, the only money you can lose is your account balance. Aside from that, nothing else.
What Financial Assets Can I Trade on Global Prime?
1. Forex
Global Prime offers almost 50 currency pairs for trading on Foreign Exchange. That's still okay, compared to many other trading brokers.
As a user, you can verify performance with trade receipts. You can also see who filled your trade, execution speed, slippage and many other details.
2. Cryptocurrencies
To be honest, Global Prime may not be your best choice if crypto is what you want to trade. It only supports 5 cryptocurrencies as of the moment of writing this review.
Users can Speculate (buy and sell) Bitcoin, Bitcoin Cash, Ethereum, Litecoin, and Ripple on the Global Prime platform.
3. Commodities
You can trade more than 20 different commodities on Global Prime. Australians can trade high-value metals like gold and silver, and energy commodities like natural gas and oil.
You can also trade cotton, wheat and many others. However, you should know that commodities have high risks that are always usually equivalent to their rewards.
4. Indices
The Indices offered by Global Prime have tight spreads and great execution. Some of them are combined with the shares of large, popular and high-value companies.
5. Share CFDs
Global Prime offers more than 100 CFDs on the New York Stock Exchange (NYSE) and NASDAQ. Users can trade them by accessing the TraderEvolution platform.
6. Bonds
You can always trade government bonds from the US, UK, Europe, and Japan on the Global Prime platform. There are 7 different bonds that you can invest in.
What Trading Platforms Can I Access on Global Prime?
1. Metatrader 4 (MT4)
Since 2005, MT4 has been a benchmark for trading Forex and CFDs in the financial market. This is a result of the interface and user-friendly environment available on MT4.
MT4 is available on Windows, MAC, Web, iOS and Android OS.
2. TraderEvolution
First of all, TraderEvolution is not for beginners. It's for professional and experienced traders that want access to more advanced functions that other platforms don't have, or that are not available for the average trader/investor.
Global Prime integrates directly with TradingView to provide extensive technical analysis. Users can use TraderEvolution for order entry, analysis, and algorithmic trading.
Trading Tools Available on Global Prime
1. TradingView
TradingView is a widely used trading tool that can be directly used alongside the MT4 trading platform.
TradingView showcases one of the world's best charts and analysis tools which users can use to trade in the global market.
Visit the Tradingview Registration page here 👉 TradingView Account and get 50% discount on your subscription.
Traders can also use this platform to track prices and analyze forex pairs, stocks, cryptocurrencies, commodities, and many other tradable assets.
2. VPS
If you're an Australian trader or investor that plots more than 20 lots per month, then you can access a free VPS service on the Global Prime platform.
If you're someone that needs reliable uptime and fast connectivity, then VPS will be a very useful tool for you.
3. Myfxbook Autotrade
This is among the top copy trading platforms in Australia and the whole world in general.
Myfxbook Autotrade enables traders to copy the trades of any system they select directly into their Global Prime MT4 account. Sounds cool, right?
4. Zulutrade
Zulutrade is a P2P social trading tool that allows traders to have access to and select from thousands of traders from around 200 countries of the world.
5. FIX API
The Global Prime FIX API solution is specially made for professional traders that want to deploy their proprietary algorithmic trading solution with the lowest possible latency.
How to Get Started With Global Prime
Visit the Global Prime Registration page here 👉 Global Prime Account here
2. If you're a beginner, you can open a Demo account and practice with it. If you're ready to start trading, you can proceed with the account opening process.
3. On the next page, click on "Start Application."
4. Select your preferred trading currency, your country of residence and your leverage. Once you're done click on the "Continue" button.
5. On the next page, enter your full name and email address. You will also need to provide a strong password for your Global Prime account. Click on the "Continue" button and follow the prompts.
Global Prime Mobile Trading
You can make use of Global Prime on your phone and trade from the comfort of your home. If you're using an Android device, you can get Global Prime from the Google Play Store.
Global Prime is also available on the iOS operating system. If you're using an iPhone, iPad or any other iOS device, you can download Global Prime from the Apple App Store.
Types of Global Prime Accounts: Which One is Best for You?
Global Prime offers two types of ECN accounts that are suitable for both beginners and experts. One is free, while the other is premium.
1. Free ECN Account
This account type has no commission fees, and it offers spreads that start at 0.4 pips on the EUR/USD. There's no minimum amount you can deposit, but it's advisable not to fund less than 200 AUD.
This account is suitable for all users, especially beginners.
2. Commission-based ECN Account
This is a paid account type. It has many benefits that suggest the "$7 per round turn lot" commission is worth it. The trade spreads from 0.0 pips.
Supported Base Currencies
United States Dollars (USD)
Australian Dollars (AUD)
Canadian Dollars (CAD)
Singapore Dollar (SGD)
Pound Sterling (GBP)
Euro (EUR)
You can also trade with other currencies, but you will be responsible for the currency conversion fees.
Deposits
There are many deposit options available on Global Prime. The ones available to you will depend on your preferred currency and country of residence.
Some of them include Skrill, VISA, PayPal, Neteller, Bank Wire Transfer,
MasterCard, and lots more.
Withdrawals
When Can you Place Withdrawals?
Withdrawals can be made from inside the Client Portal. You must submit your withdrawal request before 10 AM AEST or 11 AM AEDT. All withdrawals will be processed the same day you ask for them.
Note that you can still place withdrawals after the specified time window has expired, but they won't be processed until the next business day.
How Long Does it Take to Receive a Withdrawal?
Withdrawals usually take only 2 to 3 business days. However, there may be delays, depending on your bank and country of residence. Here are the available withdrawal options on Global Prime and their processing duration.
MasterCard: 1-10 Business Days
VISA: 1-10 Business Days
Bank Wire Transfer: 1-2 Business Days (AU), 3-5 Business Days (other countries)
Neteller: Instant processing
Global Prime Trading and Non-trading Fees
Trading Fees
Global Prime displays all the spread and commission costs. It has transparent and affordable swap rates and fee structure. The amount charged will determine by the type of financial asset you're trading.
Non-trading Fees
These are fees that may be incurred when you're not making a trade. Global Prime itself does not charge any additional deposit or withdrawal fees. However, the payment system you're using will charge transaction fees.
In many cases, Global Prime covers deposit fees on behalf of its users (up to 4% of the deposit amount). Note that this only applies to deposits made through Neteller, PayPal, Skrill and Credit Cards.
Note that Global Prime doesn't cover withdrawals made through Bank Wire Transfers. In that case, the user will be responsible for the Intermediary Bank Charges.
Global Prime Customer Support
Phone Support
+61 (2) 8379 3622
+61 (2) 8379 3622
Email
Support: Support@globalprime.com
Account and payment enquiries: Accounts@globalprime.com
Physical Office Address (Australia)
Global Prime PTY Ltd (ABN 74 146 086 017), Suite 504, 35 Grafton Street, Bondi Junction, Australia.
---
Disclaimer: Stocks, Crypto, Forex, CFDs and NFTs have high levels of risk, as your losses can exceed your initial investment. You should only trade with money you can afford to lose.
The information on this webpage is for educational purposes only and should not be treated as investment advice.
---
Now it's time to ask you some questions.
I am going to ask you 3 questions with enough time to think about each one.
Share your answers in the comment section down below and I will see how many I can correct.
If I don't get to you, please help each other around and correct each other.
What are the two trading platforms available on Global Prime?
Mention 3 trading tools available on Global Prime.
Aside from Forex and crypto, what other financial asset(s) can be traded on Global Prime?
Proceed to the next class here>> How To Deposit on Global Prime Trading Account – A Step-by-step Guide